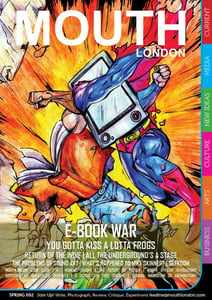 £

7.99
MouthLondon's Second edition is a magazine designed on 68 pages of high quality (200gsm cover | 130gsm text) gloss paper for Students and Young People living in London.
Current | Media | New Ideas | Culture | Arts | Business*
This Season's exclusive content includes: "The UK Jobs Market in 2011", "E-Book War", "You've gotta Kiss alotta Frogs", "Geekdom", "Pop Boutique", "Naming a Mountain" and more...
The Content (articles, illustrations, design, and images) is completely provided by our readers so that there's nearly something for everyone. You can find some of the content online at www.mouthlondon.com, but Exclusive Content, competitions and prizes can only be had in the printed copy.
Also check us out on www.mouthlondon.com
*We have six sections: Current (covering National and International News pieces), Media (film, music, venues), New Ideas (science and column pieces), Culture and Business.